Yep, we are still in the throes of the pandemic but it's May!
A time of warm (hot?) days, fresh spring produce, gardening, and nature bursting forth in all it's abundance. Strawberries, artichokes, asparagus, radishes, and spring greens are in the markets and it's time to get serious about getting the garden in order.
In this newsletter, I'm going to cover how to get better sleep, the many benefits of garlic, garden hints, and some recipes to get you through.
The Herbalist's Happy Hour – Crafted Cocktails and Tapas from the Garden is the perfect book for summer. Temps are heating up and it's time for some creative hydrating. A great reference for cooking up easy, fresh, delicious drinks, cocktails,  and appetizers for entertaining and enjoying. You want this book! Get it here.
Sleep – Rejuvenate and Repair
Sleep is essential for body detox and repair. A lack of sleep has become a badge of honor in our misguided society. Insufficient sleep is a contributor to obesity, cardiovascular problems, increased disease risk, Alzheimer's, and reduced brain function among other things.  Scientists agree that between 7 -9 hours of sleep is ideal. Everyone is different, I find that a solid 6 hours of sleep and a 20-minute nap after lunch is my perfect schedule. Find your perfect formula and feel the difference.
Practices for better sleep:
Reduce blue light on your computer and smartphone in the evenings. Blue light tricks your body into thinking it's daytime. Ideally, stay away from your screens after dinner (yes, this is possible), or at least get an app or screening glasses to minimize exposure.
Provide a sleep-inducing environment. Your bedroom should be clean, dark, quiet, and on the cool side.  A nicely made bed with clean sheets, comfy mattress and pillows, and a minimum of clutter always helps. Keep the phone and tv out of the bedroom, let's make this a sleep oasis.
Try to get outside for bright light exposure during the day. Studies have shown bright, natural light during the day increases the amount and quality of sleep.
Avoid caffeine after 3 pm and don't overeat/drink in the evening.
Don't take naps late in the day. A short nap after lunch is fine, a long nap at 2 pm or later will affect your ability to get to sleep.
Get in the habit of going to sleep and waking up at a regular time.
Lavender essential oil, yoga or gentle stretching, and/or a warm bath before bed can help you relax into slumber.
Don't feed your anxieties. Take a news break. Keep informed but don't digest story after story transmitting all the fear and bedlam in the world.
Get outside for your daily dose of Vitamin D. Take magnesium which nurtures the nervous and cardiovascular system and helps with sleep, anxiety, muscle aches, constipation along with many other bodily functions. I take 500 mg of magnesium glycinate or citrate before going to bed.
Exercise is one of the most effective practices for getting a good nights sleep. 30-40 minutes of whatever you like to do to move that body will pay you back with multiple benefits including better sleep.
Sleep apnea is a common culprit of disturbed sleep. If your roommate complains of your snoring or you find yourself feeling exhausted every morning check with your healthcare provider to rule it out.
My favorite herbs for sleep include chamomile and lemon balm in tea form. Both are soothing to the nervous system. For the incessant to-do that prevents sleep try skullcap tincture, a dropperful before bed usually quiets the taskmaster.  If I am having a particularly bad night I take CBD oil. The brand I like is Ojai Energetics Full-Spectrum Hemp Elixir. You can find it online. It is expensive and nothing that I would take on a nightly basis, but good for those especially difficult times. No altered states involved.
Meditation is another tool for good sleep and helping to improve overall health. I have been trying it for years as my overactive brain is very resistant to sitting and "being present." I find that a guided meditation with music is the easiest for me and after making it a daily habit I am finally noticing measurable results. The key is doing it daily even for 5- 10 minutes. There are many apps to help with this.
Some resources. Books - Why We Sleep by Mathew Walker, The Promise of Sleep by William Dement, The Sleep Solution by W Chris Winter. Meditation apps – Calm, Headspace, lots of meditation, and yoga series for free on youtube. https://www.sleepfoundation.org
May is THE gardening month of the year here in Colorado.
Remember the most important item for garden success is soil. Get that right and the rest is a breeze. An ideal soil is the texture of crumbled chocolate cake. Amend your soil with compost and consider raised beds if your soil is uncooperative.
Have a plan and make a list before you go to the garden center. Incorporate plants that do well in this area. I always tend to veer towards the low water plants which also tend to be low maintenance. There is no point in planting azaleas and beef master tomatoes when there are so many better options.
This may be the year for a vegetable garden if you have never had one. Salad greens, radishes, cherry tomatoes, beans, leafy greens, and herbs all do well here. Enjoy the ease of walking out to the garden for your fresh produce and the thrill of accomplishment when your crop comes in. Just make sure you have enough sun and good soil to make it thrive.
For a treasure trove of information about what does well and when to plant it check out http://www.ext.colostate.edu/. Go to the menu dropdown, hit topics, go to yard and garden and you will find an abundance of information on anything from raising livestock to the best cherry tomatoes for your area.
Start small and go from there. You can always add on later if you have the time and energy. A small, well-kept garden is a source of infinite reward. A large weedy one? Not so much. Don't overlook container gardens. Easy and great for small spaces.
Herb of the Month - Garlic

Garlic has been used for everything from cavities to leprosy. Today it is used to ward off high blood pressure, high cholesterol, colds, flu, and infections among other things.
Garlic is a member of the allium family, along with chives, onions and leeks. It contains vitamins A, B1, B2 and C, potassium, phosphorous, selenium, and amino acids along with antiviral, antimicrobial, and anti-clotting effects. Egyptians used garlic as a tonic during the construction of the pyramids. During World War I and II it was used to dress wounds and prevent septic poisoning and gangrene. Dr. Albert Schweitzer used garlic to treat typhus, dysentery, and cholera while working in Africa during the 1950s.
Science has recently been able to confirm many of garlic's healing properties. In clinical studies and trials, it lowered cholesterol, blood pressure, and blood sugar. People who eat large quantities of garlic have a lower risk of stomach and bowel cancers.  Garlic has anti-coagulant effects and should not be used with blood thinners and before or after surgery. High quantities of ingested garlic can cause indigestion so don't overdo it.
Raw garlic should be chopped and allowed to sit for 10-15 minutes before cooking to maximize beneficial effects. Garlic contains aliin, a complex sulfur compound that is changed to allicin when crushed. As well as having antibiotic properties, allicin is anti-fungal and has been used for athlete's foot, jock itch, and yeast infections.
The smell of raw garlic has a tendency to repel friends, lovers, and mosquitoes. The solution? Have them partake also, mosquitoes exempted, or use roasted garlic, which tones down the odor. Enjoy your garlic and help fight off those vampires, witches, heart disease, flu, and colds. Here are a few recipes to get you started.
Roasted Garlic 
Take 1 or more heads of garlic, cut in half. Place in an ovenproof dish and pour olive oil over the halves, coating the inside of the cloves. Add a sprig or two of herbs or some dried herbs if you like. Put the halves back together and bundle together in a package of aluminum foil. If you are doing more than one head of garlic, and why wouldn't you? package them individually. Put on a tray and bake in the oven at 350 until tender, about 40-50 minutes. Once it has cooled enough to handle, squeeze out the roasted garlic. Excellent in butters, soups, gravies, sauces, anywhere you would use garlic.
Garlic Spread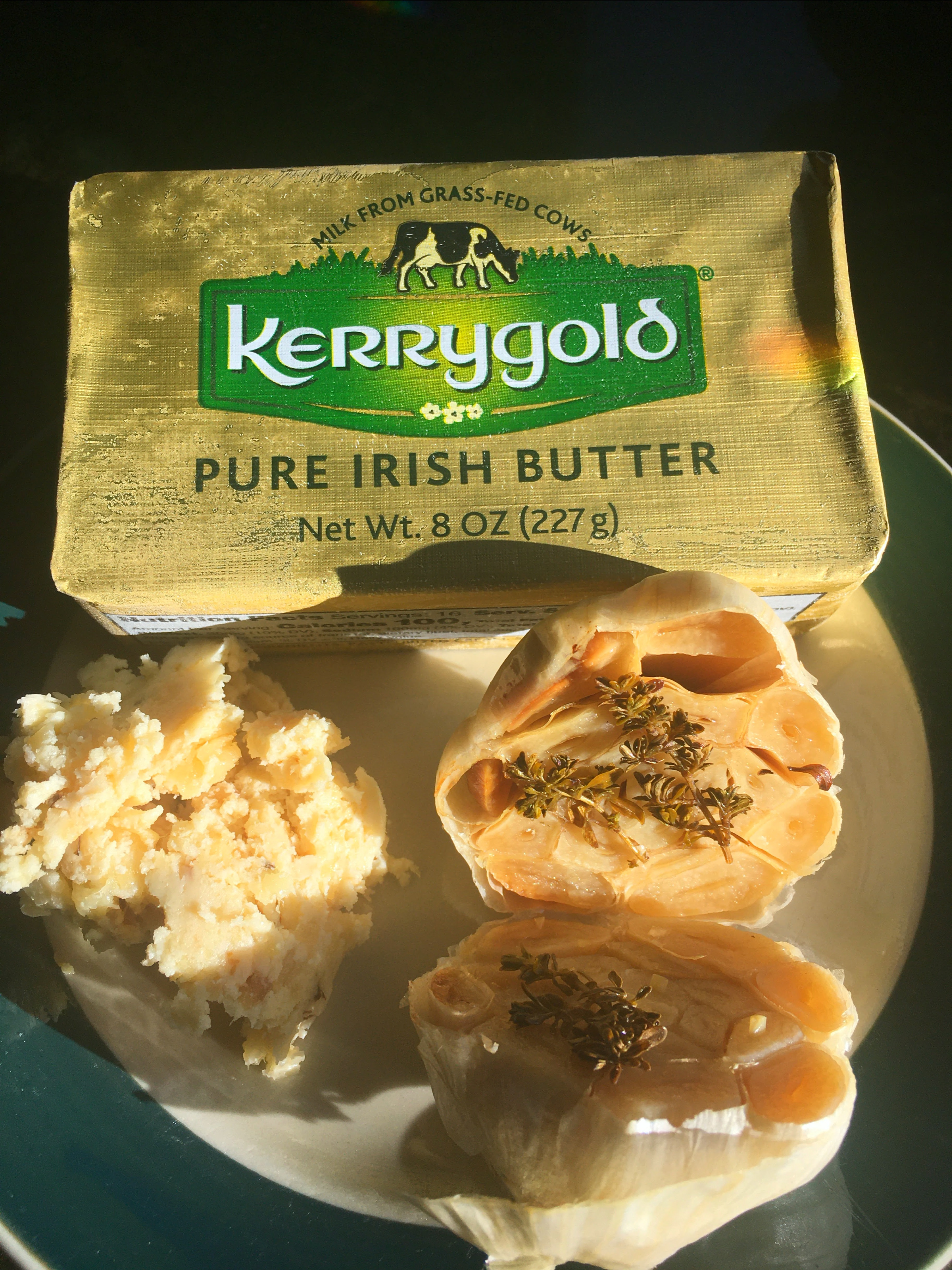 Roasted garlic
Butter
Salt and pepper to taste
Bring butter to room temperature. Squeeze out the roasted garlic and mash well with a fork. Season to taste with salt and pepper. Serve on crackers or baguette. You can also use for veggies, pasta, toast, casseroles, meat or fish.
Garlic Syrup
4-5 large cloves of garlic minced or put through a garlic press, let it sit out for a while.
Water
Apple cider vinegar

Garlic Honey
Using equal parts vinegar and water cover the garlic in a covered glass container and let sit for overnight or up to a week or two. Strain out garlic pulp, compost, and add an equal amount of honey to the garlic liquid. Whisk well and take a teaspoon as needed. You can double or quadruple the recipe if you like.
Spring Salad with Strawberries and Goat Cheese
My favorite spring salad.
Baby salad greens
Strawberries rinsed and sliced right before serving.
Cheese – goat, gorgonzola or blue cheese
Red onion cut into slivers
Radish sliced
Roasted beets, cut into small chunks (recipe follows)
avocado sliced
sprouts (optional)
Vinaigrette – recipe follows
Lightly dress the washed greens with vinaigrette, put onto a salad plate. Add strawberries, radish, red onion, beets, avocado, and cheese in a pleasing arrangement. Serve and enjoy!.
Vinaigrette
little less than ½ cup balsamic vinegar
little more than ½ cup olive or avocado oil
1 tsp Dijon mustard
Combine in a covered glass container and shake well to blend.
Roasted Beets
Take 2 or 3 washed beets with the greens cut off. Rub down with olive oil and wrap loosely in aluminum foil. Put on a baking sheet and roast in a 375-degree oven for about an hour. Remove and when cool enough to handle remove the skin of the beet with a paper towel. Great chopped on salads.
Broccoli, Spinach, Pasta Gratin
1 large stalk broccoli, cut into bite-size pieces
½ cup sliced mushrooms
8 oz frozen spinach thawed squeezed dry or 3-4 cups fresh greens, I used dandelion and arugula
½ cup chopped onion
½ cup chopped bell peppers
8 oz orecchiette or bow tie pasta
3-4 cloves garlic minced
1 cup ricotta cheese
½ cup parmesan
3 tbs. butter
1 tbs. flour
1 tsp. cooking oil
1 cup milk
Salt and pepper to taste
1 tsp. thyme
1 tsp. paprika
Dash of nutmeg
Preheat oven to 350.
Cook the pasta according to package directions. Drain and add to a greased casserole pan.
Add 1 tbs. butter and 1 tsp. oil to a sauté pan, melt the butter. Add onions, peppers, mushrooms, garlic, greens, and broccoli. Sauté until softened, about 7 minutes. Add to pasta in the casserole dish. In the same pan add 2 tbs butter, melt, and add 1 tbs. flour. Stir flour into butter until incorporated and a golden color. Whisk in 1 cup milk and stir until slightly thickened, add ricotta and stir until sauce consistency. Add salt, pepper, thyme, nutmeg, and paprika. Pour over noodle combination. Stir to blend ingredients and top with grated parmesan cheese. Cover with foil and put in 350 oven for 20 -25 minutes, until heated through. Serve with a salad and crusty bread.