Spring at last!

Time to clean out and prepare your garden beds. Pack away your long johns and dig out those spring pastels. Motivated to do some spring cleaning? Check out the recipe for a DIY natural cleanser below.
Feast on asparagus, artichokes, radishes, berries, dandelion, and chickweed. Not sure about those last two? Expand your epicurean borders and take a walk on the wild side. Check out the Wild Foods Workshop below.
I will be on the road for much of the next 2 months so the next newsletter will be in June.
Herbal Home and Garden Workshop Denver Botanic Gardens, Saturday, April 13, 9 AM to 1PM, $79, $74 members.  info here
Learn how to create a garden full of plants that can be used in the kitchen, medicine cabinet, spa, and cleaning cupboard. Discover herbs for culinary teas and seasoning blends, spa body and bath care, first aid and green cleaning. Enjoy an herbal lunch featuring Roasted Tomato Gazpacho with Parmesan Crisps; Herbed Chicken Salad with Green Goddess Dressing, and Rosemary Rhubarb Cobbler. From an herbal ingredient buffet, make and take home an herbal seasoning blend, tea blend, infused vinegar, exfoliating body scrub, soothing lip balm, and all-purpose cleaner. Discover the fascinating world of herbs! Lunch, take-home samples, extensive handout with growing instructions and recipes are included.
The Cook's Herb Garden Workshop and Dinner, Denver Botanic Gardens, Tuesday, April 16, 6 - 8:30 PM. $54, $49. info here
Discover the numerous health and taste benefits of your own herb garden. We'll cover growing, harvesting and culinary uses of 7 of the most popular culinary herbs including marjoram, parsley, sage, rosemary, thyme, chives, basil and more. We'll make an all-purpose garden seasoning blend and have a delicious herbal meal. Take home an herb blend and an extensive handout with recipes and growing instructions.
Container Herb Gardens, Tagawa Gardens, Sunday, April 14; 1:00-2 pm, FREE. Info Here
Have limited space but still want to enjoy the aromatic and culinary benefits of herbs? Join herbalist Susan Evans and learn how to pot up your own container herb garden. Perfect for patios and balconies. We'll discuss the best containers to use and the wide variety of herbs that work well for compact spaces. Harvesting and maintenance will also be covered. Handout included.
Edible Wild Foods Gourmet: Identification, Harvesting, and Use of Wild Plants, Denver Botanic Gardens, Saturday, May 18, 9 AM to noon. $55, $50 members. info here
Explore the fascinating world of wild edibles. We'll begin with an herb walk where we'll identify local wild edibles. Discover the optimum nutrition and delicious tastes provided by plants usually weeded and tossed in the compost pile. Back in the kitchen, participants prepare a delicious four-course meal using common, nutritious wild plants, including nettle, chickweed, dandelion, lambs' quarters, and more. Enjoy an appetizer, wild salad buffet with chicken and veggie options, a savory soup, and a delicious wild foods pesto with pasta.
Explore all the ways you can add wild edibles to your current recipes to boost nutrition and flavor. Recipes, lunch, and drink included.
Discover the fun and benefits of eating on the wild side!
Special Instructions: Some of the class will take place outdoors; please dress accordingly for weather and bring water and sunscreen.
Fun Things to Do
Are you getting that garden fever? Check out the multitude of garden classes at the Denver Botanic Gardens and local garden centers and nurseries including O'Tooles, Tagawa, Paulino's, Echtors, and Jareds. Several are free.
April 22nd is Earth Day. Plant a tree, take a class, volunteer, check out a festival. Do something to honor your Mama Earth.
9 Health Fair Go enjoy some blood tests. See how you're holding up for a very reasonable fee. www.9healthfair.org.
Ready for a food and wine fair? Taste of Pearl in Boulder on Sunday, April 28, 2-6 pm, for wine, food, and galleries, https://www.boulderdowntown.com/taste-of-pearl
Taste of Vail for some mountaintop dining, April 3 -6. https://tasteofvail.com/
The kids might enjoy the Tulip Fairy and Elf Parade on the Pearl St. Mall on Sunday, April 7, 1-5. https://www.boulderdowntown.com/events/tulip-festival
Cinco de Mayo Festival and Parade, food, fun and culture downtown at Civic Center Park in Denver – May 4 and 5, http://www.cincodemayodenver.com/
Five Points Jazz Festival, great food, and fantastic free music, May 19, starting at 11 am.
http://www.artsandvenuesdenver.com/events/detail/five-points-jazz-festival
Denver Arts Festival, May 25, 26, Stapleton. Art, music, and fun!
https://www.denver.org/event/denver-arts-festival/63314/
Free days this month and next include:
April
Botanic Gardens @ Chatfield Farms, Tuesday, April 2
Denver Museum of Nature and Science, Wednesday, April 3 and Sunday, April 28
Denver Art Museum – Saturdays, April 5, Sunday, April 28
Four Mile Historic Park, noon – 4pm, Friday, April 12
Denver Botanic Gardens – Sunday, April 14
May
Molly Brown House - Wednesday, May 1
Denver Art Museum, Saturday, May 4, Sunday, May 5
Museum of Nature and Science, Saturday, May 4, Sunday, May 5
Check out scfd.org/ for more deals
Herb of the Month – Dandelion, Taraxacum Officinale
April is the month for dandelions. They are plentiful and at their peak flavor right now. Dandelions are one of the top five most nutritious vegetables, ahead of broccoli and spinach.
It contains Vitamin A, calcium, iron, thiamine, riboflavin and trace minerals. Europeans have been eating dandelions for centuries and you can find them here in upscale markets and restaurants, not to mention the backyard.
Medicinal plant properties include their use as a liver tonic and mild diuretic. All parts of the plant are edible. Dandelion leaves are tastiest when young and collected before setting their flower bud, after that they become quite bitter. Dandelion leaves can be used in salads, egg dishes, casseroles, soups, and vegetable dishes. Basically anywhere you would use spinach. Make sure they have not been sprayed with pesticides. The fall roots can be chopped, roasted and used as a healthy coffee substitute.
The flowers, steeped in water, make a fine face wash, herbal bath, or steam. You can also use the flowers for vinegar and wine. Pull out the flower petals and blend into butter and cheese spreads, or as a bright garnish for salads and other dishes. The flowers are a source of a natural yellow dye and are an important pollen source for honeybees.
So don't scorn this generous, sunny little plant. Pick it and use it to give yourself a healthy spring boost.
Edible and Medicinal - Violets, Viola sp.
Violets are some of the first flowers of spring and are both edible and medicinal along with being quite lovely with a delightful fragrance. There are many varieties, from pansies to perennial violets to the wild violets that like to infiltrate lawns and moist cool spaces.
They will grow in sun to medium shade and prefer a rich garden loam and moderate watering. Purchase dense, sturdy-looking plants with lots of healthy, green leaves and buds. If they have been in a greenhouse, harden them off by putting them outside for a few nights tucked up close to the house. Don't forget to remove the stems of faded blooms to keep them bushy and full of flowers.
Violet and pansy syrup has been used to ease sore throats and as a digestive tonic. A poultice of pansy or violet leaves, made by mashing leaves with aloe vera to make a paste can be applied to inflamed skin to soothe irritation and reduce inflammation. Violets have an affinity for the breast and are used to soothe mastitis, infections, pain, and cysts.
Unsprayed leaves and blooms are edible and can be used in teas, salads, smoothies, soups, stews, butters, vinegars and more. Leaves are rich in Vitamin A, C, and trace minerals. You can candy the flowers for lovely garnishes.
April is the month where gardeners come out in earnest, usually in between snow storms. It's wonderful to look out and see small explosions of color from spring bulbs and early blooming perennials.
The crucial item for a successful garden? Soil. I add compost to the garden beds every spring and fall. Learn how to get your own compost pile going with free classes @ https://dug.org/compost/.
Now is the time to divide your overgrown perennials and get all those weed seedlings out. Go on an herb walk to find out which ones make a tasty addition to dinner.
I like a garden that features fragrance, herbs, veggies, edible and cut flowers for the house.  Drought tolerance, long bloom, and easy maintenance are also essential. Check out your local county extension service for pages of information on the best choices for gardening in Colorado.  Curb your enthusiasm and don't plant more than you are willing to maintain in the dog days of August.
You can put in your cool weather crops now including kale, Swiss chard, spinach, salad greens, peas, onion sets, strawberries and more. If you have seed starts from inside, make sure your plants are hardened off before planting out in the unpredictable spring weather. Put out some pansies and primrose to compliment your spring bulbs. Cut back grasses, roses, perennials and dead wood in shrubs. Resist the urge to buy tender plants too early. If a late frost doesn't kill them, it will definitely stunt them.
Check out all the plant sales in May. The best times to hit the garden centers are Thursday nights and all day Friday when they stock up for weekend sales.
Ready to get the winter cobwebs out? Fill up some boxes with all that stuff you have accumulated and never used and recycle it at the local thrift store. For inspiration read "The Life-Changing Magic of Tidying Up" by Marie Kondo or check out her videos on youtube.com. There is something so soothing and nurturing about a clean, organized environment.
Cleaning products are some of the most toxic ingredients in your home. Consider switching to a natural brand like 7th Generation or make your own. Following is my favorite all-purpose spray cleaner.
Multipurpose Spray Cleanser
1 cup liquid soap blend, I like Dr. Bonners or Meyers Clean Day
½ Tsp. baking soda
1 tsp. lemon, lavender or eucalyptus essential oil
1 cup witch hazel or rubbing alcohol.
Shake together in a spray bottle. Add a cup or two of water. For use anywhere you would use 409, sinks, counters, floors, etc..
Recipes of the Month
The fresh produce season begins. Add fresh greens, strawberries, rhubarb, arugula, kale, artichokes, asparagus, radish, beets, fava beans, scallions, baby carrots, and peas to your springtime feasts. Just the start of the incredible variety of tastes coming our way with the warmer weather.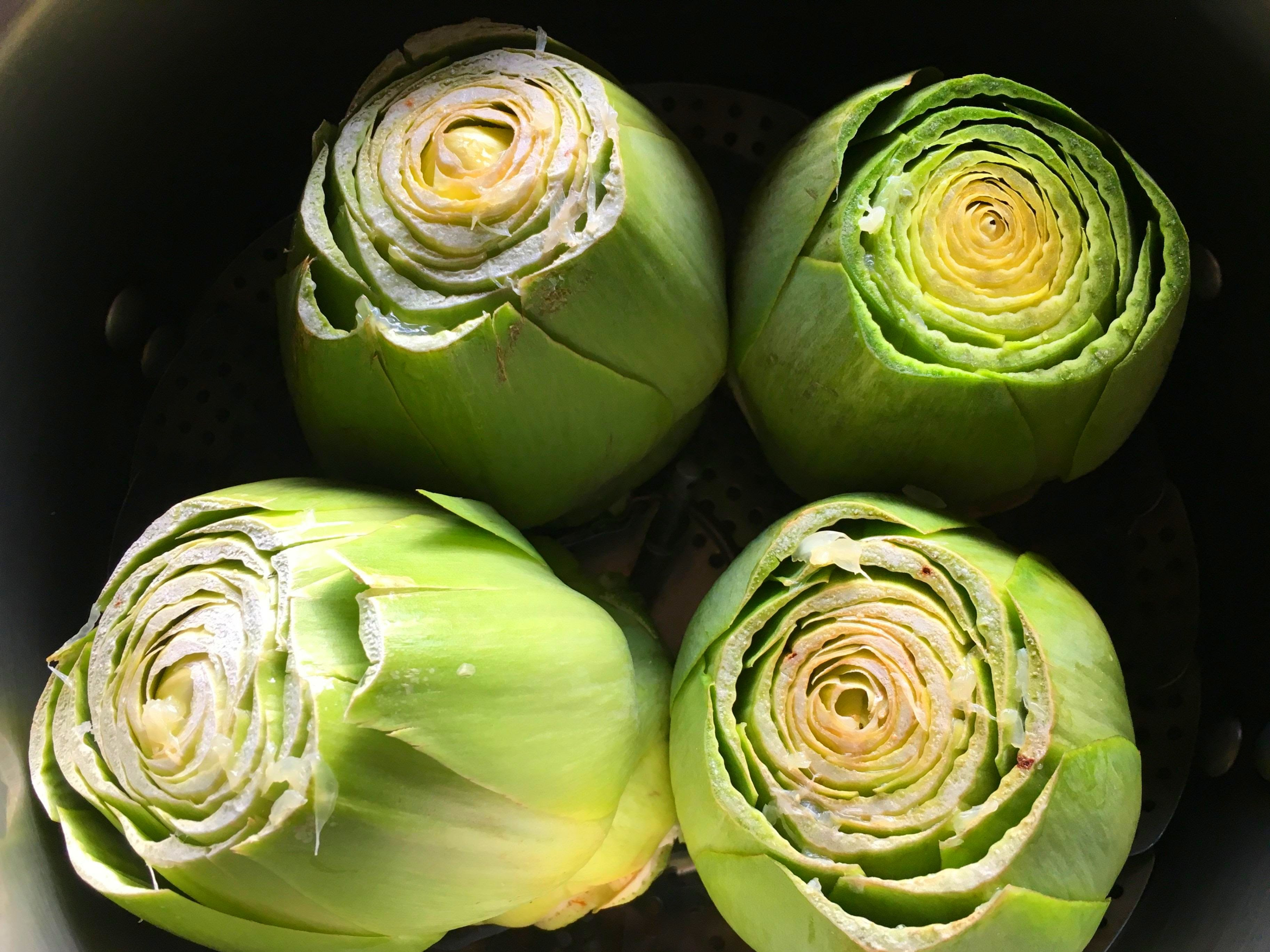 Artichokes with Lemon Butter6
Artichokes can be intimidating for the beginning cook but they are truly easy and quite delicious! If these directions don't do it for you check out youtube for a tutorial.
2 artichokes
butter
lemon
With a sharp, serrated kitchen knife, cut off about one inch from the top of the artichoke, removing the sharp tips. Remove the stem close to the base of the artichoke along with the tough bottom leaves. Rub the cut portion of the artichoke with a lemon slice to prevent it from browning.
Put the artichokes in a pan with a steamer insert and steam, refilling the water as necessary, over medium heat for about 20-30 minutes until the leaves are softened and the bottom of the leaves are tender enough to scrape off with your teeth. This is the part you eat, you don't chew the whole leaf. Remove and serve with lemon butter sauce.
Arugula, Strawberry, Radish, and Goat Cheese Salad – serves 2
2 cups arugula
8-10 fresh, organic strawberries, lightly rinsed right before serving, sliced
2-3 radishes, cut into strips
2 tbs of crumbled goat cheese, you can also use blue or Roquefort, Parmesan or Asiago.
2 tbs of lightly toasted pine nuts (optional)
Balsamic vinaigrette (recipe follows)
Lightly dress the arugula with the balsamic vinaigrette. Store the remainder for future salads. Evenly divide the greens between 2 plates and top with strawberries, radishes, cheese, and pine nuts.

Balsamic Vinaigrette
1/3 cup balsamic vinegar
1/2 cup olive oil
tsp. Dijon mustard
Combine in small covered glass container and shake well to blend.
Snap Peas with Pesto and Pine Nuts –serves 4-6
1 lb. prepared snap peas, To prepare, remove and discard the stem end and string from each sugar snap pod
1/3 cup basil or pesto of choice (recipe follows)
¼ cup pine nuts
3-4 strips of cooked bacon (optional)
Steam snap peas in a pot with a steamer insert for about 5 minutes. They should still be somewhat crisp and have a bright green color.
Drain and toss with the pesto and top with the pine nuts.
For extra taste (and decadence) add some crumbled bacon. Season to taste with salt and pepper.
Pesto
Pesto is usually made with basil but you can use any fresh herb as a substitute.
¼ cup pine nuts or walnuts
¼ cup olive oil, if you need more, use it, you want a thick sauce texture.
1 cup fresh basil
1/3 cup shredded Parmesan cheese
2-3 cloves of garlic
Process in food processor until smooth.
Use on pastas, sandwiches, roasted vegetables, potatoes and more.
Pasta with Wild Greens - serves 2
4 cups cooked drained pasta of your choice
2 tbs. olive oil
2-3 cloves of fresh garlic, minced
4 shallots or green onions, minced
3 cups young wild greens, lambs quarters, young dandelion leaves, chickweed and/or spinach and kale.
½ cup sun-dried tomatoes in oil; you could also use cherry tomatoes
1/3 cup toasted walnuts or pine nuts
½ cup grated Parmesan or Asiago cheese
Salt, pepper, red pepper flakes, thyme and fresh basil to taste.
You can also add cooked chicken or seafood
Cook garlic, shallots in olive oil until softened, add greens and cook until wilted.
Add pasta, tomatoes, nuts, and seasonings and heat through. Add more oil or water if needed.
Serve topped with cheese. Generously serves 2.
Strawberry/Rhubarb Crunch – serves 6-8
Filling
2/3 cup sugar
3 tbs. flour
1 lb. strawberries, sliced
3 cups diced rhubarb
1 tsp. fresh squeezed lemon juice
Topping
¾ cup flour
½ cup rolled oats
½ cup brown sugar
1 stick butter
1 tsp. cinnamon
Preheat oven to 375.
Mix filling ingredients in a bowl and place the mixture in a greased 8x8 baking dish. Mix oats, brown sugar, and flour together for topping, cut cold butter into chunks and use a pastry cutter or a fork to add to oat mixture and work into a crumbly texture. Disperse evenly on top of the fruit mixture.
Bake 45 minutes or until crisp and golden.
Top with whip cream or vanilla ice cream. Yum!